MEETING & EVENT
MRAME workshops at the IMSC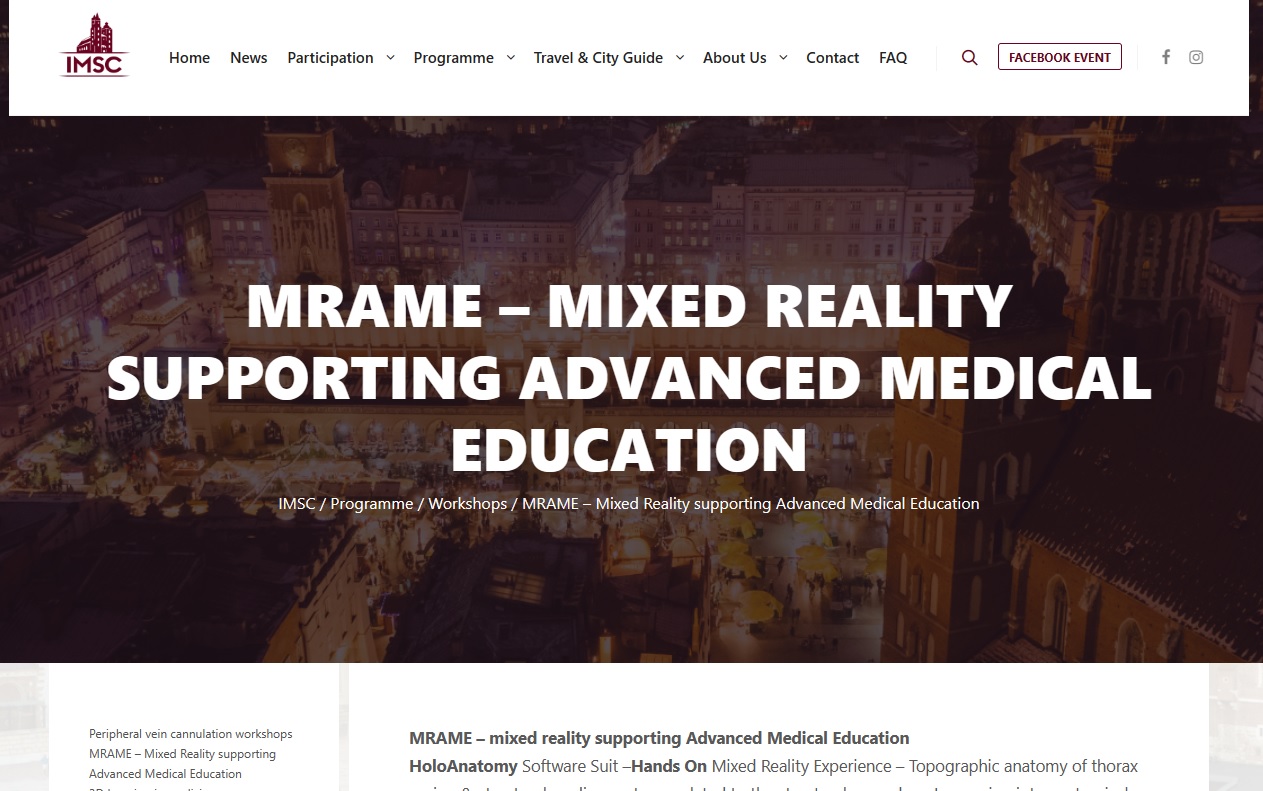 MRAME workshops at the IMSC

HoloAnatomy Software Suit –Hands On Mixed Reality Experience – Topographic anatomy of thorax region & structural cardiac anatomy related to the structural procedure.
Immersion into anatomical holograms.
Creating 3D models based on personalized patient data: MRI/CT. Discussion of the technical and clinical aspects of the segmentation process. Presentation of clinical application, usability in medicine: in mixed (MR), augmented reality (AR) and 3D printing.
31st edition of the International Medical Students' Conference (IMSC)
Student Scientific Society of the Jagiellonian University Collegium Medicum (STN UJ CM) is organizing the 31st edition of the International Medical Students' Conference (IMSC), which will take place on April 13-15, 2023 in Krakow.
The conference will be attended by over 700 people from several dozen countries around the world.
As part of the conference, which is one of the largest and oldest events of this type addressed to students of medical faculties in Europe, young scientists will have the opportunity to present the results of their research to an international audience.
In addition to a dozen or so thematic scientific sessions, as part of the event, participants will be able to take part in a wide program of workshops, interesting lectures, competitions addressed to both active and passive participants, and in various activities provided as part of the social programme.
This year's edition of the conference has been held under the honorary patronage of the Rector of the Jagiellonian University, prof. Jacek Popiel, Vice-Rector of the Jagiellonian University for Collegium Medicum prof. Tomasz Grodzicki, Polish Academy of Sciences, European Society of Surgery, European Board & College for Obstetrics and Gynaecology, Cochrane Polska, Polish Society of Internal Medicine, Polish Pediatric Society, Polish Society of Orthopedics and Traumatology, Polish Society of Pathologists, Polish Society of Spinal Surgery, Polish Society of Physiotherapy , Polish Society of Midwives, Polish Pharmaceutical Society, Club 30 of the Polish Society of Cardiology and Center for Digital Medicine and Robotics at Jagiellonian University Medical College.
To keep up to date with any new information regarding the conference, we encourage you to follow the website
(https://imsc.cm-uj.krakow.pl) and events on Facebook
(https://www.facebook.com/events/899996820920998).