PRESS
Letter From The Executive Director HoloAnatomy®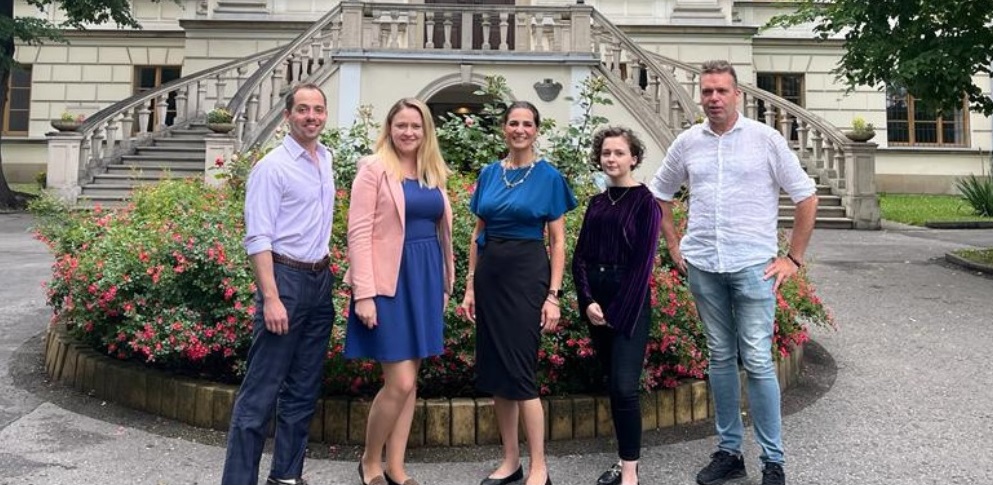 Dear Friends,
I would like to extend my deepest gratitude to our existing and new partners for last year's success, and welcome new conversations with those that have not had a chance to explore and experience what HoloAnatomy® & HoloAnatomy® Neuro brings to the world of mixed reality! This Newsletter is a recap of 2022 and all the many highlights that made the year.
Best Regards,
Nancy Farrow, MBA | MHCA
SVP, Marketing & Global Business Development
Letter From The

Executive Director
Dear HoloAnatomy Partners and Friends,
As the new year of 2023 rolls ahead, I wanted to reflect on the previous year and express my deepest gratitude for allowing me to work with you in some capacity. I am so proud of all that we've accomplished. The year 2022 will be very memorable for me as HoloAnatomy reached many celebratory milestones.
To name a few:
We onboarded six new global partners.
Showcased HoloAnatomy software around the world at various conferences and presented during many speaking engagements.
Released New Version of the HoloAnatomy Software Suite V2.4.4.1.
Completed HoloAnatomy Neuro Software Suite V1.1.1.0. It is now available for purchase!
We were featured on NBC Nightly News, XRToday magazine and other media outlets.
From these significant achievements, our vision for HoloAnatomy's success has strengthened, and it's primarily due to your support, engagement, and interest in our product. As some of you may have heard, CWRU has announced the launch of Ilumis, Inc. to accelerate product innovation, improve partner service and rapidly scale the potential of this revolutionary learning platform. "Ilumis was formed as the exclusive licensee to help extend these applications to students around the world," said Mark Griswold professor at the CWRU School of Medicine. To learn more please visit CWRU-Website and IlumisAR-Website.
We look forward to an even better and bigger 2023 year and wish you all the same! Keep your updates coming. We love to hear from you!
If you want to learn more about HoloAnatomy or HoloAnatomy Neuro Software Suite, please feel free to email me at nnf10@case.edu or Nancy.farrow@ilumis-ar.com. I'll be happy to set up a short 30 min discovery session with you and your team.
Thank you for staying connected,
Jagiellonian University Medical College
| | |
| --- | --- |
| HoloAnatomy® Software Suite finally makes its beginning in Eastern Europe at the Jagiellonian University located in Krakow, Poland. Jagiellonian University is the oldest higher education institution in Poland and one of the oldest in Europe. Jagiellonian University Medical College developed rapidly from 1994 to educate nearly 700 medical and dental students annually coming from five different continents and twenty countries. JU Medical college carries out research in many different medical fields and their findings have been published in many prestigious international journals (i.e., European Journal of Cardio-Thoracic Medicine, New England Journal of Medicine and Lancet). | We had an absolute pleasure onboarding our newest partner into the world of holographic anatomy. They have been able to do great things with the software like developing strategies to incorporate 3-D imaging processes and mixed reality. They are experimenting in high fidelity structures with 3-D models in many subspecialities like neurology, neurosurgery, oncological dietetics, intervention cardiology, electrophysiology of the heart and proper human anatomy. Jagiellonian University officially piloted their first HoloAnatomy session with their medical students this past October with exciting reaction from their students. We are very proud of our partner and hope to see them succeed with this cutting-edge technology! |
Read full article